SCIENTIFIC EQUIPMENTS :
In order to offer its partners high-level technological resources, BIOASTER uses advanced scientific instruments incorporating cutting-edge innovations. Research is carried out on these instruments (incremental or disruptive), to ensure that technology moves on, and that it remains state of the art.
Some flagship instruments currently used in the field of "omics" include :
Next generation sequencers (2nd generation: MiSeq and NextSeq500 Illumina, Proton and PGM Life Technologies; 3rd generation: MinION Oxford Nanopore) and medium-throughput RNA and DNA quantification platforms (nCounter Nanostring, Biomark Fluidigm, RainDrop Digital PCR RainDance Technologies)
Bruker 600 MHz NMR spectrometer with cryoprobe (1H/13C/31P) and automatic sample changer,
Mass spectrometers for analyses in high resolution (Q-TOF maXis HD Bruker, Orbitrap Q Exactive ThermoScientific), quantitative (ThermoScientific TripleQuad, Sciex QTRAP 5500) or in diagnostic (VITEK MS BioMérieux ),
Mass cytometer (CyTOF 2, DVS/Fluidigm),Droplet-based microfluidics, ultrasensitive immunoassays (Simoa Quanterix)
Automated platforms for sample preparation and analyte extraction
Multi-dimensional management and analysis of all this big data and heterogeneous data are based on a flexible, scalable and high-performance infrastructure, hosted in a CNRS (French National Institute of Nuclear and Particle Physics Computing Centre, CC-IN2P3) data centre.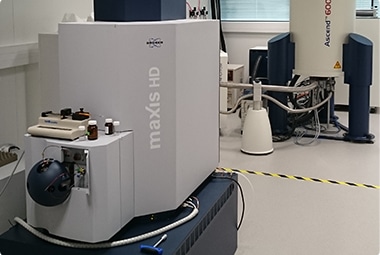 Spectromètre de masse pour analyse à haute résolution (Q-TOF Maxis HD Bruker)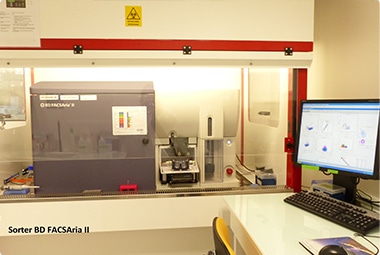 Trieur BD FACSAria II sous PSM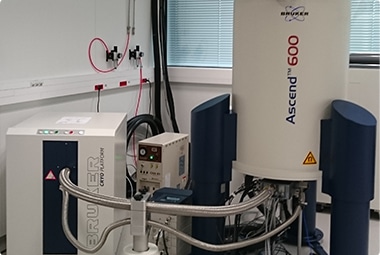 Spectromètre RMN 600 MHz Bruker avec cryosonde (1H/13C/31P)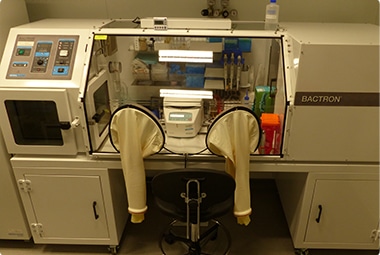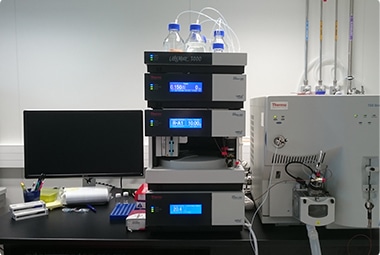 Triple Quadrupole couplé à système UHPLC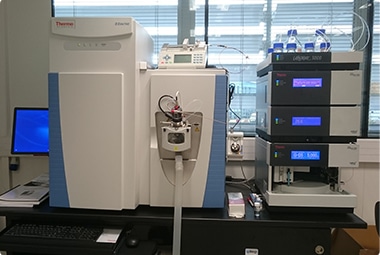 Orbitrap couplé à système UHPLC
IT EQUIPMENT :
Through its IT Department, BIOASTER has a privately-owned, new and robust infrastructure.
Based in Lyon HQ as well as within Pasteur Institute (Paris), the infrastructure is also hosted at the IN2P3 Computing Center on the DOUA campus in Villeurbanne. All together, those infrastructures ensure the safety and back-up of BIOASTER scientific data and those shared with partners.
Those infrastructures, through their storage capacity, available memory, calculation and transfer speed, ensure the safety and back-up of BIOASTER scientific data and those shared with partners.
BIOASTER infrastructures were designed to support collaborative work with all of its partners, private and academic. They provide for tools sharing, dialogue, transfer, interoperability…, while ensuring complete isolation between the projects in its ecosystem.