TECHNOLOGY UNIT : Omics Hub
Solution-oriented innovations in the Omics field.
CHALLENGES
An access to up-to-date and integrated Omics technologies, together with the associated expertise, is mandatory for the discovery of new antimicrobials or vaccines, the understanding of host/microbes interactions, or the identification of biomarkers. Moreover, the development of new technological solutions corresponding to industrial processes and needs, in terms of innovation, quality or throughput, is strongly needed. In this context, the Omics Hub develops and implements innovations in Genomics & Transcriptomics, Metabolomics, Proteomics and Immunomonitoring within BIOASTER's collaborative projects.
OBJECTIVES
Leveraging Omics approaches to address technological locks within in BIOASTER's collaborative projects
For the comprehension of biological mechanisms (diseases, treatments, microbiota), by addressing both the microbes and the host response
For the identification and validation of relevant biomarkers & signatures for diagnostics or stratification
With technological development in the Omics field, built on academic research with a focus on industrial needs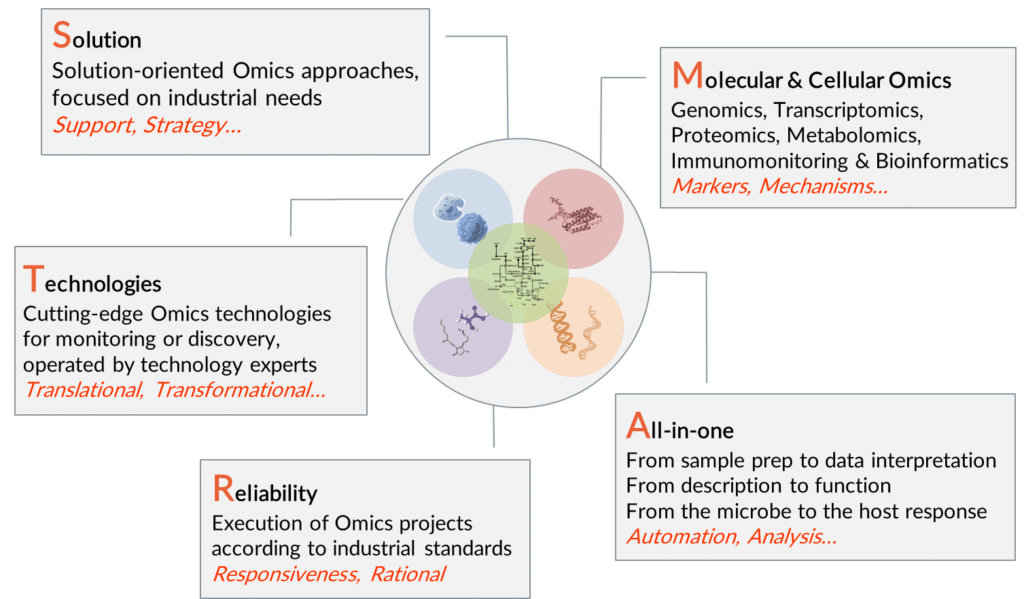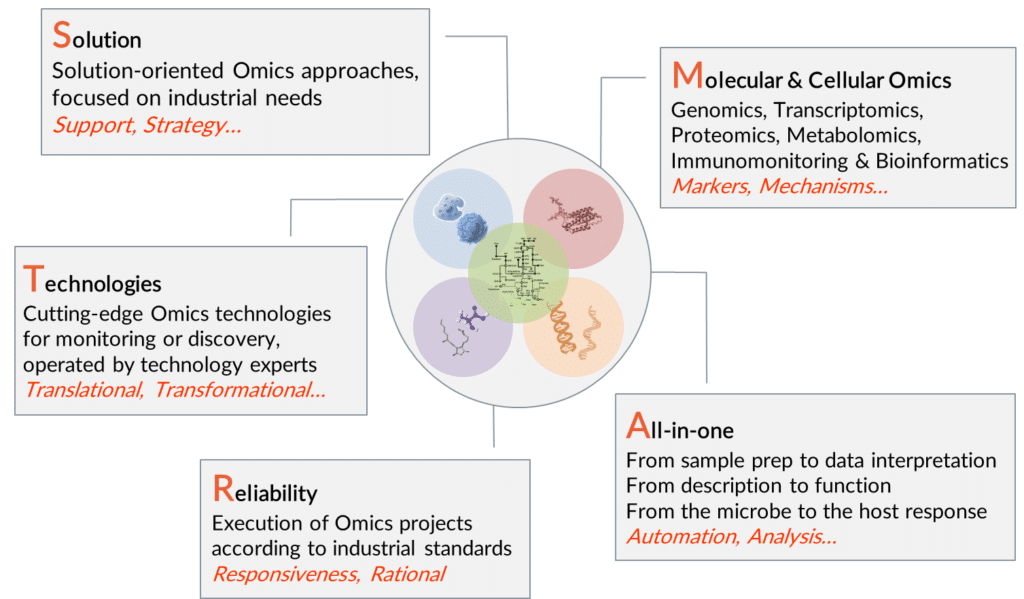 Technologies & Expertises
Genomics, Transcriptomics, Proteomics, Metabolomics, Immunomonitoring & Bioinformatics.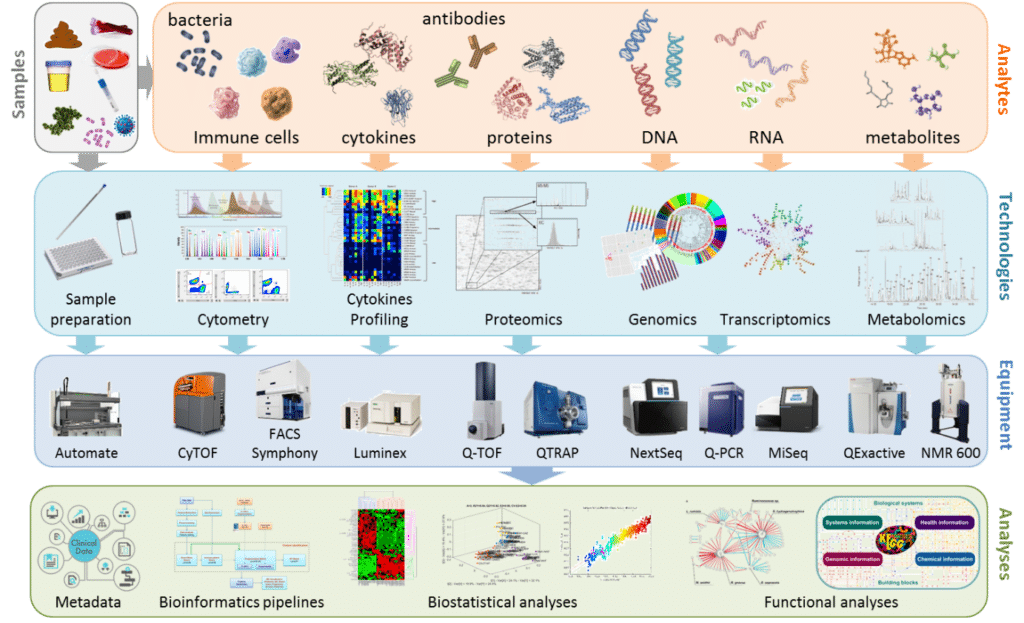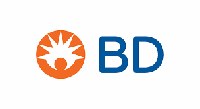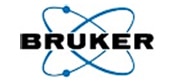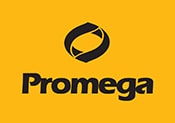 Highlights: Technologies designed by Bioaster
Met-SAMoA® for Metabolic Screening of Antimicrobial Mode of Action.
Expertises@BIOASTER SMART Omics
APPLICATION NOTES
OMICs Hub Metabolomics. Inter-individual heterogeneity in clinical metabolomics studies: Assessment of inter-individual NMR/MS metabolic signatures variability in plasma of a heterogeneous group of healthy volunteers – impact for biomarkers discovery.
See the application note
Publications
Metagenomic Next-Generation Sequencing Reveals Individual Composition and Dynamics of Anelloviruses during Autologous Stem Cell Transplant Recipient Management. Bal A, Sarkozy C, Josset L, Cheynet V, Oriol G, Becker J, Vilchez G, Sesques P, Mallet F, Pachot A, Morfin F, Lina B, Salles G, Reynier F, Trouillet-Assant S, Brengel-Pesce K. Viruses. 2018 Nov 14;10(11). doi: 10.3390/v10110633.
A modular transcriptional signature identifies phenotypic heterogeneity of human tuberculosis infection. Singhania A, Verma R, Graham CM, Lee J, Tran T, Richardson M, Lecine P, Leissner P, Berry MPR, Wilkinson RJ, Kaiser K, Rodrigue M, Woltmann G, Haldar P, O'Garra A. Nat Commun. 2018 Jun 19;9(1):2308. doi: 10.1038/s41467-018-04579-w.
Type I interferon-mediated autoinflammation due to DNase II deficiency. Rodero MP, Tesser A, Bartok E, Rice GI, Della Mina E, Depp M, Beitz B, Bondet V, Cagnard N, Duffy D, Dussiot M, Frémond ML, Gattorno M, Guillem F, Kitabayashi N, Porcheray F, Rieux-Laucat F, Seabra L, Uggenti C, Volpi S, Zeef LAH, Alyanakian MA, Beltrand J, Bianco AM, Boddaert N, Brouzes C, Candon S, Caorsi R, Charbit M, Fabre M, Faletra F, Girard M, Harroche A, Hartmann E, Lasne D, Marcuzzi A, Neven B, Nitschke P, Pascreau T, Pastore S, Picard C, Picco P, Piscianz E, Polak M, Quartier P, Rabant M, Stocco G, Taddio A, Uettwiller F, Valencic E, Vozzi D, Hartmann G, Barchet W, Hermine O, Bader-Meunier B, Tommasini A, Crow YJ. Nat Commun. 2017 Dec 19;8(1):2176. doi: 10.1038/s41467-017-01932-3.
The REAnimation Low Immune Status Markers (REALISM) project: a protocol for broad characterisation and follow-up of injury-induced immunosuppression in intensive care unit (ICU) critically ill patients. Rol ML, Venet F, Rimmele T, Moucadel V, Cortez P, Quemeneur L, Gardiner D, Griffiths A, Pachot A, Textoris J, Monneret G; REALISM study group. BMJ Open. 2017 Jun 21;7(6):e015734. doi: 10.1136/bmjopen-2016-015734.