TECHNOLOGY UNIT : IMMUNOMONITORING
Biomarker identification, monitoring and custom assay development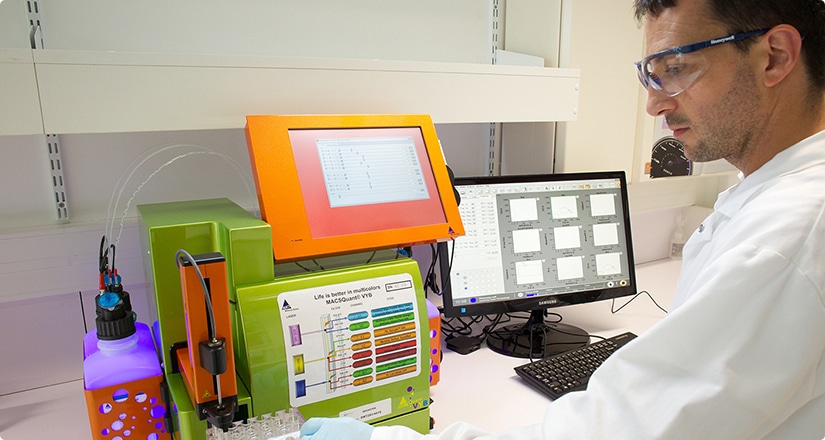 CHALLENGES
Nowadays, we have access to very powerful tools, such as mass cytometry, allowing us to generate a massive amount of data. These tools enable us to set up innovative analysis methods to extract the most relevant information from the data. While the analytical aspects represent a major challenge for immunology, it's also critical to address the biological relevance of the processed data.
The high sensitivity of some of our analyzers imposes us to be able to discriminate the signals directly associated with immune monitoring from those resulting from pre-analytical parameters. Improving the management of such parameters in order to limit their impact on our final results also represents a major challenge for our lab.
OBJECTIVES
Our overall goal is to add value to all projects we participate in and it can be broken down into 3 main development axes:
Sample quality monitoring
Biomarker discovery
Custom assay development
Objective 1:
Sample quality monitoring:
Sample quality is a critical parameter that has to be taken into consideration from sampling to analysis. We are setting up protocols to limit the impact of time, temperature, manipulation and any pre-analytical event on sample quality. We are also measuring, for each assay, the impact of those parameters in order to discriminate physiological or pathophysiological parameters from those related to pre-analytical sample handling.
Objective 2:
Biomarker discovery:
We have access to highly sensitive analyzers, such as the Quanterix Simoa HD-1, as well as analyzers allowing high-dimensional cell characterization, like the Fluidigm CyTOF2 mass cytometer. We are currently setting up a droplet microfluidics analysis platform, which will allow us to quantify soluble factors produced at the single cell level over time. These tools will be used to identify biomarkers in multiple compartments (organs, stools, blood). We are in the process of optimizing protocols to isolate cells and fluids from these compartments.
Objective 3:
Custom assay development:
We need to provide the best solutions to our partners while being innovative and flexible to answer new questions for each project. We plan to setup a "toolbox" for the detection of soluble factors. We could, for example, deal with nanobeads that could be functionalized in-house to tailor our assays to every project or any constraint.
ADDED VALUE
Expertise, Equipments, Technologies
Biomarker discovery
Custom-made luminex assays for multiplexed detection of antibodies and cytokines
Mass cytometry: Measurement of up to 38 parameters on each cell, including phenotyping, viability, ICS, cell cycle and phosphoproteins. Analysis can be performed on circulating cells (volume as low as 50ul) as well as on tissue-infiltrating cells.
High sensitivity assay (Simoa, Quanterix) for the detection of soluble factors (up to 1000x more sensitive than an ELISA assay).
Screening
Cell screening by flow cytometry using a cell barcoding system together with a plate reader (up to 1500 samples / hour)
Screening with the luminex or fluorospot technology using our TECAN EVO robotics platform (for cytokines and antibody detection).
High throughput single cell (or microorganism) screening using our droplet microfluidics platforms. Screening for cell phenotype, activity of production of soluble factors.
This know-how is constantly improved through our internal development programs. The relevance of the generated data is also linked to the knowledge of the impact and the optimization of the sample processing for each type of analysis.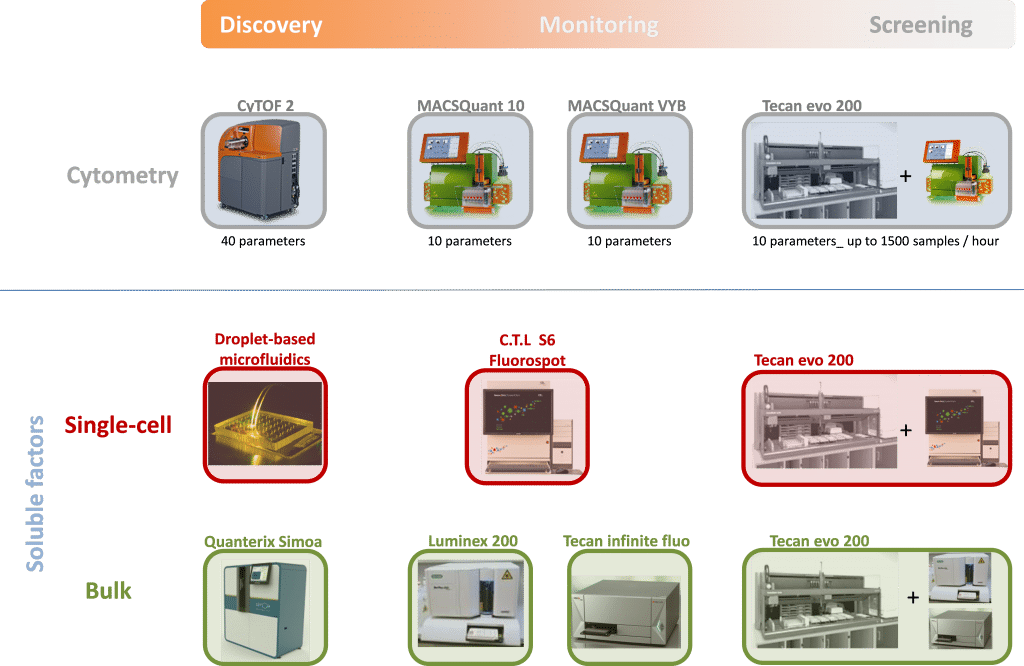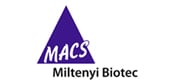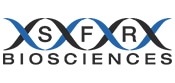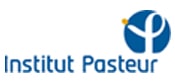 Highlights & Publications
Highlights
Two droplet microfluidics platforms have been installed on our Paris site
The Immunomonitoring CRO ABL Lyon (formerly Platine Pharma Services) and the BIOASTER Immunomonitoring unit will share a 2,600 ft2 facility at BIOASTER Lyon.
BIOASTER has participated in validating antibodies from Miltenyi Biotec for mass cytometry applications: Click here for more information.
Publications
"Neonatal regulatory B cells are infected by human respiratory syncytial virus and are predictive of acute bronchiolitis severity"Dania Zhivaki, Sébastien Lemoine, Annick Lim, Ahsen Morva, Pierre-Olivier Vidalain, Liliane Schandene, Nicoletta Casartelli, Marie-Anne Rameix-Welti, Edith Dériaud, Benoit Beitz, Maryline Ripaux-Lefevre, Jordi Miatello, Brigitte Lemercier, Delphyne Descamps, Jean-François Eléouët, Sabine Riffault, Olivier Schwartz, Fabrice Porcheray, Françoise Mascart, Xiaoming Zhang, Pierre Tissières, and Richard Lo-Man.  Submitted for publication.
"CyTOF analysis reveals proinflammatory and antiinflammatory DC subsets in newborn blood with different pathogen reactivities" Sébastien Lemoine, Xiaoming Zhang, Benoit Beitz, Maryline Ripaux-Lefevre, Fabrice Porcheray, Claude Leclerc and Richard Lo-Man. Oral presentation, European Congress of Immunology (ECI), Vienna, Austria, Sept 2015.
"Biosafety of Cell Sorting : A New Rapid Standardized Procedure to Evaluate Biocontainment Quality"     T. Andrieu, C. Couturier, D. Lestrade, S. Dussurgey, N. Déchamps and J. Baijer. Oral presentation, Cyto meeting, Glasgow, june 2015.
« Biosécurité : Méthode simple de mesure du confinement des trieurs », Thibault Andrieu, Céline Couturier, Delphine Lestrade, Sébastien Dussurgey, Nathalie Déchamps, et Jan Baijer. Poster, Congress of the French Association for Cytometry, Lille, France, November 2014.