TECHNOLOGY UNIT : PRE-CLINICAL MODELS AND IMAGING
Development of innovative translational pre-clinical models and technologies in infectious diseases and microbiota-host interactions to improve human and animal health.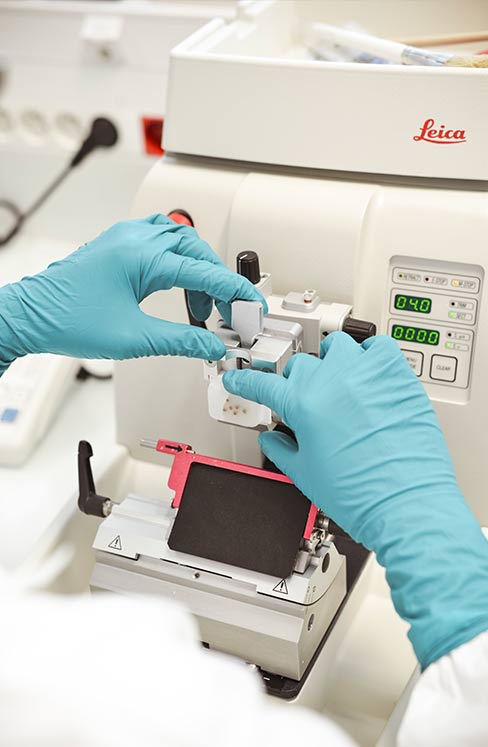 CHALLENGES
Natural exposure to microbes and viruses occurs every day in our life. Most of the research in the last decades concentrated in particular on the pathogens and the diseases they can cause. The challenge to study host-pathogen interactions, in order to understand pathogenesis/virulence, and to find effective cures to infectious diseases will continue in the next years, as there are still many diseases that require translational and predictive pre-clinical models to evaluate new therapies or vaccines, and for which the development and evaluation of innovative preventive and therapeutic strategies are urgent public health needs. As examples, increasing antimicrobial resistance to old and new antibiotics is an overwhelming issue for clinicians worldwide as well as the emergence of several vector borne diseases.
However, more recently, there is also an increased interest and evidence on the importance and role played by commensal microbes (inoffensive microbes colonizing the host) and how they can influence human and animal health.
The importance of predictive pre-clinical models combining recent technologies in imaging analysis, functional genomics, metabolomics, immunology and molecular biology to study the complex interaction between the microbe(s) and the host is therefore pivotal in the advancement of new therapies to combat infectious diseases or to understand the impact of microbiota in health and disease in research areas such as inflammatory, metabolic, immune or neurobehavioral diseases.
OBJECTIVES
Our technology unit has the objective to develop and optimize a unique combination of translational pre-clinical models and technologies dedicated to infectious diseases and host-microbes interactions.
Our activity is centered on three main areas :
1 – Development of infectious diseases models and imaging
2 – Development of models to study gut microbiota
3 – Multi-modality imaging of pre-clinical models: from macro to micro data imaging
1 – Development of infectious diseases models and imaging.
Preclinical studies in animal models of infectious diseases represent a valuable bridge between in silico and in vitro assays and early clinical evaluation. The unit is involved in the development of predictive animal models, in vivo assays and imaging techniques to develop and refine studies and / or tests to evaluate the mechanism of action, pharmacological properties and efficacy of therapeutic and prophylactic treatments against infectious diseases.

2 – Development of models to study gut microbiota, including culture, isolation and identification of mouse gut microbes.
In recent years it has become increasingly apparent that the Gut Microbiota (GM) plays a significant role in host biology, and data showing that GM composition and diversity influence disease development in both animal and human are overwhelming. In addition, GM has a profound impact on animal models and it is nowadays evident that gnotobiology (the study of animals raised in environments free of micro-organisms or those which contain only specifically known micro-organisms) is essential in order to understand the role of GM in areas such as inflammatory, metabolic, immune or neurobehavioral diseases.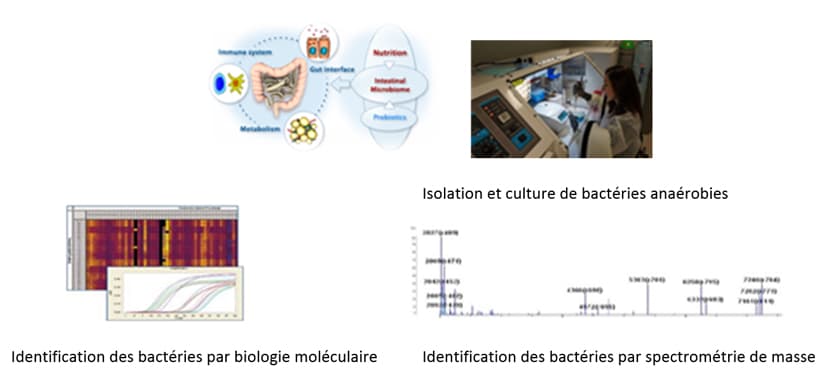 3 – Multi-modality imaging for animal models: From macro to micro data imaging.
In many areas of preclinical research, there is an increasing need to integrate in vivo data with imaging techniques that allow visualizing/monitoring multiple events simultaneously. This is the case of multimodality imaging enabling, with two or several imaging modalities like bioluminescence or fluorescence the integration of multiple quantitative and functional measurements such as localization, extension, metabolic activity, immunological response, drug concentration and biodistribution during an infection for example. In addition, integration and co-registration with imaging anatomical techniques like microtomography provides integrated data on molecular and anatomical features of the infection.
Immunohistology and fluorescent in-situ hybridization (FISH) complement the imaging offer with the capability to identify specific intra or extracellular molecules and structures as well as microbes in complex microbial organizations like the intestinal ecosystem.
ADDED VALUE
Expertise, Equipments, Technologies
The unit is composed of experienced scientists and technicians with specific know-how acquired in multiple years of service in the industry or academia, integrating all the competencies necessary to provide efficient and high value development of pre-clinical models in infectious diseases and gnotobiology in compliance with regulatory and ethical requirements. Our know-how goes from in vitro bacterial manipulation or transformation, including strict anaerobic bacteria isolation, culture and identification through advanced molecular biology techniques, to in vivo study design and execution in biosafety level 2 and 3 facilities.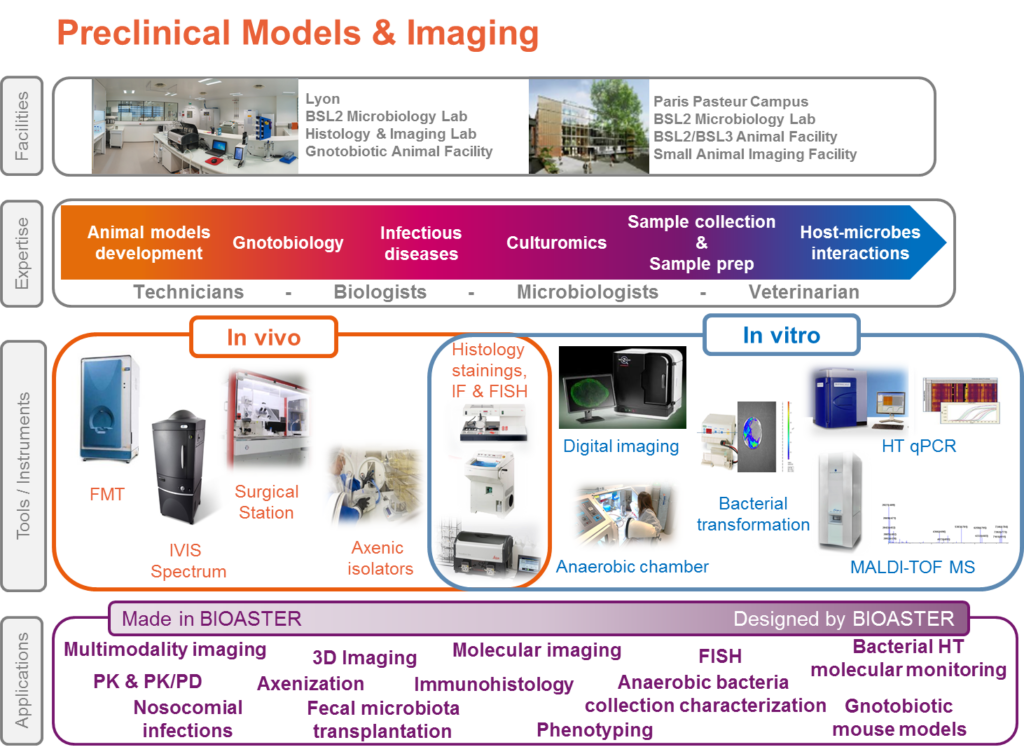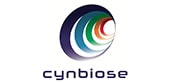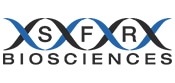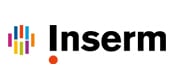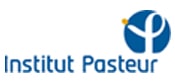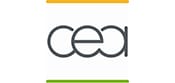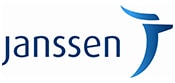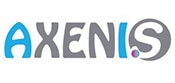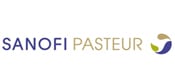 BIOASTER EXPERTISE: GNOTOBIOLOGY
The solution to perform pre-clinical studies with controlled microbiota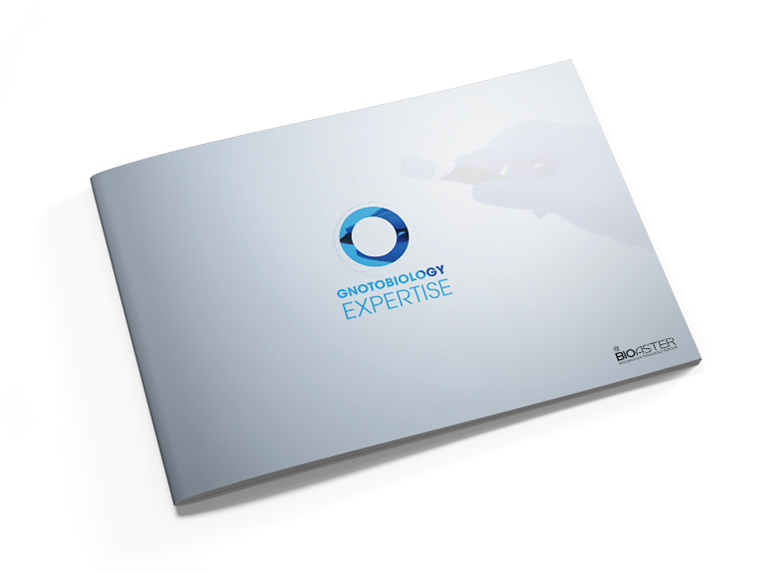 Application note Hamamatsu:


Innovative ongoing projects
Participation to the European project NAREB (Nanotherapeutics for Antibiotic Resistant Emerging Bacterial Pathogens).
Generation and validation of a mouse model with a standardized murine intestinal microbiota.
Development and validation of a novel animal model to evaluate new therapies for hepatitis B.
Highlights
Implementation of a gnotobiology unit and microbiological laboratory to study gut microbiota and microbes-host interactions.
Molecular imaging for infection models using bioluminescence and/or fluorescence
Optically based biodistribution analysis and anatomical identification of organs using clearance properties of luminescent or fluorescent probes
Presentations
8ème Journée Scientifique de la SFR Biosciences, Lyon, Juin 2015.

A new animal facility in Lyon Gerland area to explore microbiome. M. Darnaud, M. Peltier, A. Tamellini, A. Gaudin, A Rekiki

European meeting on animal chlamydiosis, Paris, Sep 2015.

Animal models and imaging competencies to improve chlamydial studies. Abdessalem Rekiki, Marion Darnaud, Aurore Gaudin , Manon Peltier, Pascaline Bogeat, Andrea Tamellini

Séminaire national d'imagerie optique in vivo, Paris, Sep 2015.

Abdessalem Rekiki, Aurore Gaudin, Marion Darnaud Manon Peltier, Pascaline Bogeat, Andrea Tamellini