A UNIQUE EXPERIENCE OF WORK
BIOASTER is a unique experience in a career.
– As a scientist involved in several projects, challenging expertise and areas in an multicultural environment.
– As a support function embracing all the dimensions of the job in a dynamic and always moving context.
BIOASTER is a human-sized structure, in the heart of the Lyon Gerland biodistrict and the Institut Pasteur in Paris.
Curious, adaptable, team player, BIOASTER is a great place to implement your skills.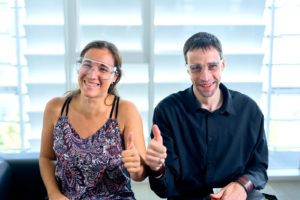 19 employees recruited in 2019

, mainly in the science department
Professional equality index 2021: 84%
distributed by indicators as follows:
– Pay gap indicator: 34/40
– Individual increase rate spread indicator: 35/35
– Maternity leave return indicator: 15/15
– High pay indicator: 0/10
BIOASTER skills development centre:
– Taking on block-release trainees, trainees and PhD students
– 90% of employees attended at least one training session in 2019.
– BIOASTER employees work with partner schools (CPE Lyon, Lyon INSA, etc.)
In line with its aims and company values, BIOASTER brings together candidates from all over the world with extensive and varied expertise.
With a total of 100 employees from various backgrounds (industrial, academic, SMEs), BIOASTER teams are creative, open and engaged.
The interdisciplinary approach is at the very heart of our values, to help us address major public health issues. Our collaborative research projects constitute crossovers of scientific disciplines, aiming to combine the very best of academic, industrial and SME expertise.
BIOASTER will undoubtedly be a unique experience in your career. Do you identify with our values, and would you like to be part of the adventure ?
Please see the list of our current vacancies below or send us your application via the form Application below.