PEOPLE ARE ONE OF BIOASTER'S GREATEST STRENGTHS
Helping people fulfil their potential in order to make strides in research is a key to the success of our Foundation.
We also recognise the importance or recruiting people with the right profiles, welcoming new employees and building teams, so that everyone can develop and our organisation can progress. Gaining experience at BIOASTER must help build skills and increase employability. This means building skills through investment in training for all our employees, as well as through sharing skills, experience and interactions with other departments, particularly through collaborative projects. We mention employability because our ambition is for everyone involved in the Foundation, whatever their contract, to be able to set both human and professional milestones in their careers.
We are keen to help our teams and individual employees, and we work to create a healthy and transparent social climate in a work environment that promotes accountability, initiative and a friendly atmosphere.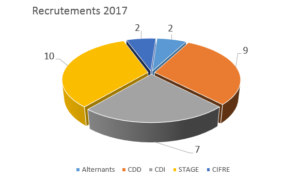 30 employees recruited in 2017

, mainly in the science department

BIOASTER skills development centre :
– Taking on block-release trainees, trainees and PhD students
– 2 Recognition of Prior Learning schemes currently ongoing
– 90% of employees attended at least one training session in 2017.
– BIOASTER employees work with partner schools (CPE Lyon, Lyon INSA, etc.)
In line with its aims and company values, BIOASTER brings together candidates from all over the world with extensive and varied expertise.
With a total of 100 employees from various backgrounds (industrial, academic, SMEs), BIOASTER teams are creative, open and engaged.
The interdisciplinary approach is at the very heart of our values, to help us address major public health issues. Our collaborative research projects constitute crossovers of scientific disciplines, aiming to combine the very best of academic, industrial and SME expertise.
BIOASTER will undoubtedly be a unique experience in your career. Do you identify with our values, and would you like to be part of the adventure ?
Please see the list of our current vacancies below or send us your application via the form Application below.