Case study
Codira2
Rapid bacteria detection & antibiotic susceptibility testing (AST) Rapid bacteria detection & antibiotic susceptibility testing (AST)
AST: Antibiotic Susceptibility Testing
ID: IDentification – TTR: Time-To-Result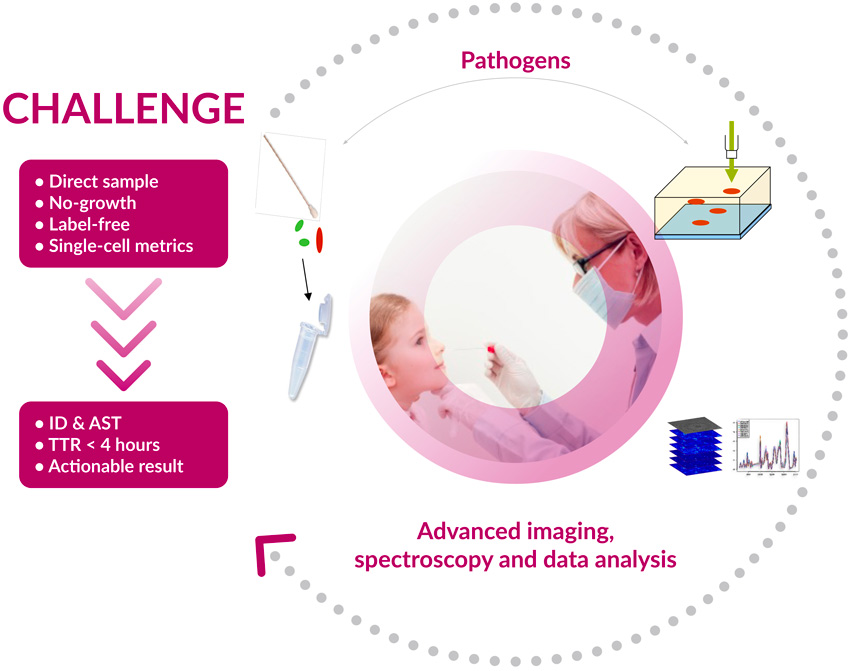 An important task for clinical microbiologists is to provide expedient microbiology reports (sample, identification (ID) and antibiotic susceptibility testing (AST)) upon arrival of new samples, in order to guide early administration of target-based antibiotic therapy. Bypassing culture thanks to highly sensitive and specific advanced-optics-based detection can lead to a considerably reduced time-to-results. Moreover, label-free methods guarantee preservation of original characteristics of the pathogens as well as genericity of the test.
The collaborative work between bioMérieux, BIOASTER and Clinique des Cèdres aimed to demonstrate the possibility to detect and characterize single bacteria cells in a short time (< 4hours for ID and AST), directly in the original sample, without prior isolation or growth of the pathogens.
The technological approaches combined robust sample preparation with label-free advanced optical methods to detect, identify and characterize micro-organisms and their sensitivity to antibiotics in rinsing solutions of swabs.
The feasibility of two specific product-concepts (one for point-of-care ID and the other for lab-setting ID/AST) was assessed.
BIOASTER brought its expertise in advance optics and participated in the assessment of the following single-cell, label-free-based technologies :
Holographic-microscopy-based pathogen identification and antibiotic susceptibility testing (AST)
Microscopy and cytometry-based measurements of bacterial auto-fluorescence for AST
Raman micro-spectroscopy for fast bacterial identification and AST
Publications:
Culture-free Antibiotic-susceptibility Determination From Single-bacterium Raman Spectra,
A. Novelli-Rousseau et al,
Sci. Rep. 8:3957 (2018)
Fast Antibiotic Susceptibility Testing via Raman Microspectrometry on Single Bacteria: An MRSA Case Study,
A. Novelli-Rousseau et al, ACS Omega 6,
16273-16279 (2021)
Patent:
Device and method for acquiring a particle present in a sample (WO2017207184)
Following this project, we built together with the industrial partner another project  around advanced optical technologies for fast microbiological diagnostics.